So, I am home all day having some things done at the house.
Wishing that I had a spring centerpiece...
Remembering that I have two hydrangea teardrop wreaths that hung on the front doors last spring.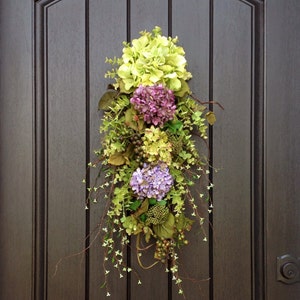 (I'm currently enjoying
baskets
of tulips on the front doors.)
Hmmm....
Could I use those swags as a centerpiece?
I think so....
I placed them side by side (going in opposite directions) on a dough bowl.
Happy dance.
I have a spring centerpiece!