It started with a pitcher of tulips...
and a red transferware plate...
but then it needed more...
Valentine's Day is such a great excuse for vintage romantic.
hearts and silverplate,
paperwhites and chalkware,
birds and old books,
and nests.
Heartfully,
Eilis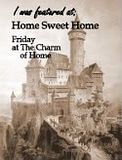 Linking up with:
Thoughts of Home Thursday
Feathered Nest Friday
The Charm of Home
Treasure Hunt Thursday
Share Your Style
Dream. Create. Inspire.
Make it Pretty Monday
The Scoop
Share Your Cup
Our Southern Home
Wow Us Wednesday
Rattlebridge Farm
Inspire Me Tuesday
Share it One More Time