My family says I am on my way to becoming a crazy chair lady. That means I don't collect cats (yet), but I have a hard time walking by chairs. I must have a special obsession with placing pairs of chairs outside. There are two seats by our front door, two chairs outside a decorative French door in the front of our house, two rockers on our back porch, two patio chairs outside our bedroom, and two chaise lounges by our pool. I'm all for two people sitting down and visiting.
So, when I found myself in IKEA on Saturday, and I saw adorable folding French bistro chairs for $15 a piece, I walked by them - not.
I bought two of course. As I drove home (patting myself on the back), I wondered where I was going to put them. Worse case scenario, I figured I could store them for extra seating at a party.
Then, as I drove in the driveway, I saw the perfect spot. Our back door opens out to a porte-cochere.
It is the best place for potted plants in the summer, since they are protected from direct sun all day.
Now there are two places to sit there, too. Thank goodness.
Have a great day!
Heartfully,
Eilis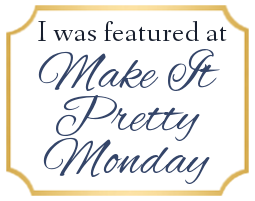 Linking Up With:
Inspire Me Tuesday
The Scoop
Make it Pretty Monday
Dream. Create. Inspire.
Wow Us Wednesday
Share Your Style
Thoughts of Home on Thursday
My Inspired Design
Our Southern Home
Share It One More Time
Thursday Favorite Things
Feathered Nest Friday
Home Sweet Home