Recent weeks have had me doing a completely different kind of home making. I've been downsizing my mother-in-law's home from a house to a small assisted living apartment. Here are some things that I have found work well. There are affiliate links in this post. If you use one to make a purchase, I will be compensated, but your cost will not change.
1. Smaller pieces of furniture to replace some full size ones
This assisted living apartment, like many I saw, includes a small kitchen area (sink, microwave, and mini refrigerator). There is a little space for a kitchen table, but not for the large one she had in her house. I found a small farmhouse kitchen table on Houzz. It measures about 40 x 29 inches and has a leaf for an additional 12 inches.

My mother-in-law eats her meals in a community dining room, but still appreciates a place to write or eat a snack.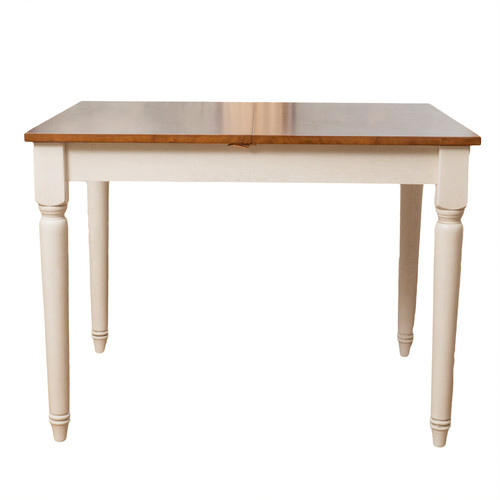 We brought two of her own kitchen chairs to use with it. This was important in surrounding her with as many familiar things as possible. Luckily, one of her little hutches fits in the kitchen area. It is filled with the figurines that hold sentimental value for her. The drawers below are full of her family pictures.
2. Using pieces in new ways
My mother-in-law's assisted living apartment is roomy enough that we brought her sofa and two easy chairs for the living area. She happened to have a wicker basket large enough to use as a coffee table (similar to the one shown below). This has worked out well for blanket storage and a place to put her feet up while she watches television.
We also used a nightstand from a spare bedroom as a small t.v. stand. This made a couple of drawers available for storage.
3. Senior friendly clocks
Knowing what the day is has become as important to my mother-in-law as the time is to me. She was delighted by this digital calendar day clock. In fact, she likes it so much that I purchased one for her living area and another for her bedroom.
I really cannot recommend this item enough if there is a senior in your life who is constantly asking what day it is. It is very reassuring for him or her to be able to obtain this information independently.
The clock can hang on a wall or stand on a table. The time appears as soon as it is plugged in, but you may need to adjust it to your time zone. There is a battery back up, but it just saves the time until the power is restored. This clock also comes in other frame colors.
5. A bulletin board
There are bulletin boards with calendars of the daily events posted in the halls of the assisted living facility. However, I knew my mother-in-law would be much happier if she could refer to this information frequently in her own home. So I set up a similar area just inside her front door. I also hung a list of phone numbers and other essential information on the board to make it easy to find.
This photo was taken the first day I started to work on the apartment, before we moved her furniture in. It is much cozier now.
6. Lots of photos of family and friends.
I framed several photos of loved ones and hung them up before she even arrived. I noticed that these photos were very important to her in her old home and it was easy to have copies of them waiting for her when she arrived in the new place.
7. Night lights
I used a combination of motion detector lights, smart sensor lights, and traditional night lights to be sure that she wouldn't be stumbling around in the dark to find her way to the bathroom at night. She already had a lamp that turns on when the base is touched. I put that one on her night stand along with a flashlight for emergencies.
8. The resident's own touches
The apartment entrances in this community reflect each resident's own preferences. We chose a favorite cross, wreath, and birdhouse to give my mother-in-law's doorway and front porch feeling.
Once we unpacked the boxes, I asked my mother-in-law where she wanted to hang her favorite art. She was delighted to see her photos from Arizona displayed in her hallway. Being involved in this also went a long way towards helping her remember that this is her new home, not just a place she is visiting on a short trip.
9. If it ain't broke don't fix it.
It was hard to pack up and reduce a household for someone one with memory loss and reduced ability to make decisions. One area that could be simplified was clothing stored in her dresser and chest of drawers. We left everything in those drawers exactly as she was used to having it. I used painter's tape and a Sharpee marker to number the drawers. That way, when they were pulled out while moving the furniture, they were returned to the same positions they had always been in.
10. The daily essentials
Considering how many hotel type services are provided at this complex, I was a little surprised to learn what is not. Items such as toilet paper, paper towels, and a shower curtain are provided by the resident (or family). I have also placed replacement light bulbs, snack foods, a few dishes, glasses, and utensils in the kitchen cabinets. We were allowed to hang curtains but not paint any walls.
It's been two weeks since the big move in. Fortunately, my mother-in-law is settling in very nicely. She enjoys the food, the exercise classes, opportunities for worship, and the company of other people. She finds all the employees kind and helpful. She is now under the care of a physician who sees patients in the convenience of their own apartments. There is also a hairdresser available. We couldn't ask for a better situation for her.
Blessings,
Eilis